The arrival at Surmang last summer of nearly one hundred nuns has had the shedra humming.  The shedra living quarters are now fully occupied, with the overflow in nearby houses, and a regular schedule of practice and teaching has been in place. This is the first time since before 1959 that a group of nuns is in ongoing residence at Surmang. 
Practice and Study at the Surmang Shedra
Practice and study have been enhanced by the participation for the first time by the large group of nuns living at the Surmang shedra, including the annual commemoration of the parinirvana of Chogyam Trungpa Rinpoche in April (pictured above). Now there is also an assistant khenmo at Surmang (a khenmo is a female khenpo or monastic scholar).  Although most of the nuns receive some support from their families, donors to Konchok Foundation have ensured that electricity for lighting and electric heaters, propane for cooking fuel, food for those who need it, and other needs are being provided.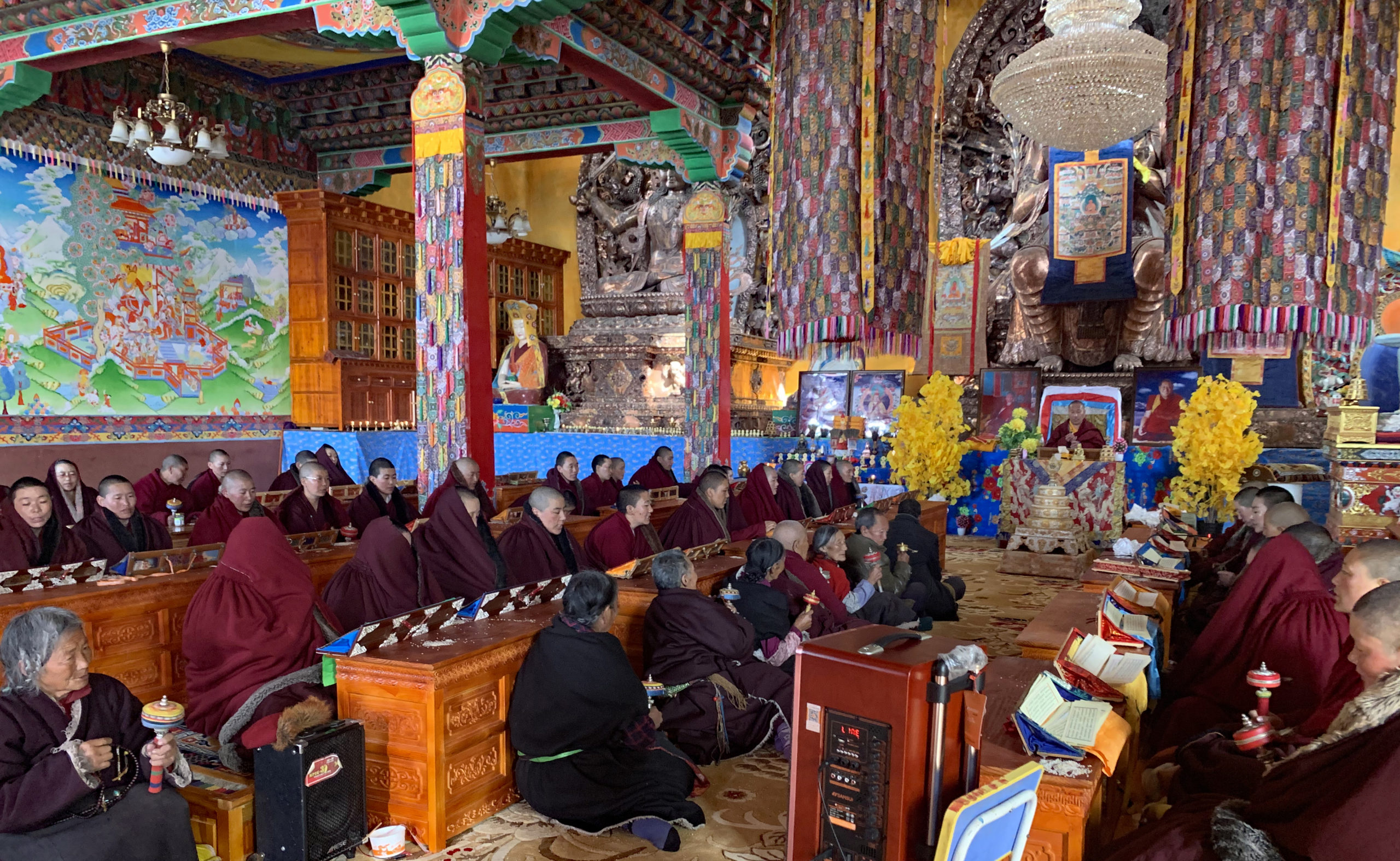 The main assembly hall in the Surmang shedra, in its current finished condition, is being actively used by the nuns for ongoing practice, whereas before they used one of the upstairs classrooms.  Even though the three large rupas (statues), of Maitreya, Manjusri, and Green Tara, still need to be painted, the main shrine room of the shedra looks wonderful. It is now being regularly filled with dharma activity as has long been intended. 
There have been no cases of the coronavirus at Surmang.  Due to pandemic closures in the area, the Children's Education Program, which Surmang has run since 2010, did not happen this year. Restriction on travel due were raised just in time for the monastery to do their annual commemoration of the parinirvana of Chogyam Trungpa Rinpoche.
Kyelaka Nunnery Site  
As is traditional, the monastic site for the nuns will be separate from the Surmang Dutsi Til monastery grounds.  Although they will visit the monastery for programs, they will reside at the nunnery, and also have a lhakang (shrine hall) there.  Therefore, Surmang Dutsi Til immediately began work last summer on reopening a nunnery complex for the nuns.  This is taking place at Kyelaka, not far from Dutsi Til.  Many Konchok Foundation donors are supporting this effort.