Many centuries ago, the land for Surmang Dutsi Til monastery in eastern Tibet was donated by a local landowner, Adro Shelubum. He and his heirs also gave his castle, situated at a very special location, the top of the "hill of amrita" (dutsi til) on the monastery grounds. Ever since, the Kargenma (which means ancient castle) served as a place of practice and as a residence for the monastery's abbots, the Trungpa lineage.
Chögyam Trungpa XI Rinpoche used it as a residence until he was forced to flee Tibet in 1959. Many of us are familiar with his drawing of that special building which appeared in the book, Born in Tibet. The Kargenma was destroyed by the Chinese army subsequent to his departure; the ruins have held a commanding presence over the monastery complex and the whole valley ever since.
Chöseng Trungpa XII Rinpoche, the current abbot of Surmang Dutsi Til, has decided to rebuild the Kargenma and to make it yet grander than it was originally. The work is well underway, as can be seen in the photograph below. Trungpa XII Rinpoche is now 27 years old and has clearly taken his leadership seat. He initiated this project independently with his own fundraising efforts.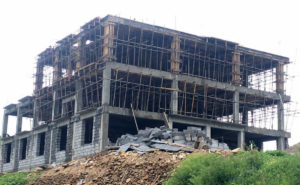 Trungpa XII Rinpoche has asked us to let the Western sangha know that this is happening and to invite you to participate in this noble undertaking. Although he has raised money from local sponsors and donors, he needs help to bring the project to completion.
Konchok Foundation, whose main focus remains the monastic college (shedra) at Surmang, is happy to facilitate the transfer of your donations to Tibet and to keep you informed of progress. Donors can choose Kargenma from the dropdown menu on our Donate page.
Thanks to your generous donations, construction for the Surmang shedra is being completed. The shedra has been used for children's programs since 2010 but various types of finishing work were needed before the shedra complex was consecrated and ready for use by adults. An update report on the shedra, with additional photos, will be provided later this fall.
The rebuilding of the iconic Kargenma structure, together with the new shedra and the newly rebuilt monastery lhakang (shrine hall), should do a great deal to uplift the energy and morale of the Surmang Monastery, and of the Surmang valley altogether.
If you have questions or need additional information feel free to contact Bob or Lindy King at lotusking@indra.com. To provide financial support for the rebuilding of the Kargenma (or any other Konchok Foundation activity), please visit our Donate page.
Artistic rendering of the new Surmang kargenma (Trungpa residence) by Stanley Doctor.