by Jon Ransohoff
Our pilgrimage to Surmang Monastery in August 2018 was a challenging and enriching adventure. All of us felt blessed with an experience of intimacy with the place and people of Surmang even without the Shedra consecration.
Guided by Conscious Journey, we fellow travelers collaborated in stirring pot after pot of meals, traveling between accommodations, vehicles, and roads, each with aspects of surprise and satisfaction — and occasional disappointment and challenge. Beyond the heat, humidity, noise, and Disney-esque colored lights of Chengdu and Yushu, we encountered that the dharma carved into the landscape as mani stone and monasteries, sensing an undercurrent of Tibetan humility and joy. Leaving Yushu we wended our way along the broken pavement and crested the hills; as we turned our last corner, suddenly the presence of Surmang Dutsi Til revealed itself.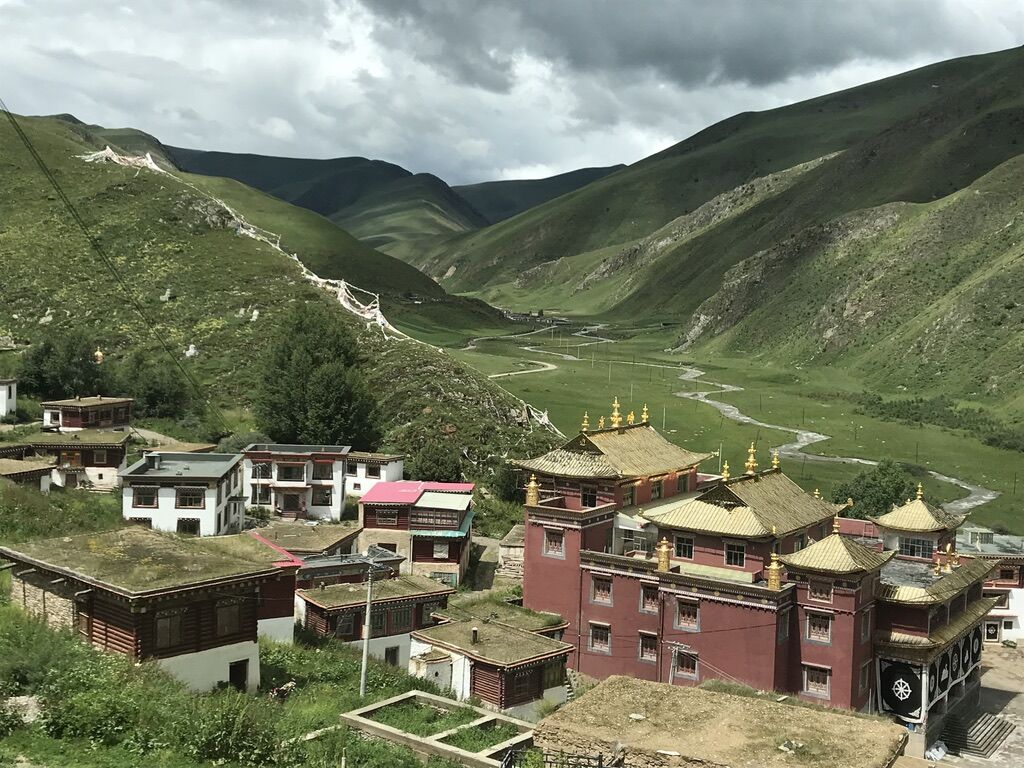 Our first experience of the Surmang Shedra was trying to settle in the monks' and nuns' quarters for accommodations. Tamdin, the owner of Conscious Journeys, had sent a crew ahead to make things ready, which was a huge task since the rooms were dusty from all the construction and disuse. After days of sweeping, cleaning, wiping, moping, beating blankets and mattresses, still we did a lot of moving, mixing and matching to get ourselves settled into our quarters. Some were billeted uphill to the newly rebuilt Kargenma which had its own smaller challenges.
It was great to see Surmang Khenpo again after eight years. He is deeply affected by recent deaths in his family, including his nephew who is hanging on in a coma. Still he was happy to see us.
Tamdin and his crew erected the dining tent in the meadow in front of the Shedra and we gradually came out from our traveling stupors to help cut up vegetables and have dinner. The Twelfth Trungpa, Chökyi Senge Rinpoche joined us briefly at dinner and the next morning we had a group audience with him at his shrine room in the Kargenma, and those that wished met him individually in the afternoon. The following day he offered us the empowerment for a brief Red Chenrezig practice in the morning, and the second afternoon we planned to hike together to Dorje Kyung Dzong, the retreat hermitage above Surmang Monastery. So Trungpa Rinpoche was very much with us throughout the visit.
In the group, there were about twenty of us from various countries and with various degrees of connections with the dharma and with Trungpa Rinpoche. Acharya Marty Janowitz and his wife Suzanne, Alexandra Shenpen, Don Henderson, and myself were perhaps were the most deeply connected elders. There were also a handful of German, Swiss and Spanish sangha members of varying experience in Shambhala. And, to our surprise and delight, there was also a team of five from a women's health collective, who were doing research and meeting with Tibetan nomad and village woman about health and hygiene. The women on this team overlapped with us in some villages (including Dutsi-Til and a nunnery at Namgyal Tse) and otherwise would return at night with their stories at dinner. They became an integral part of the rhythm of our trip.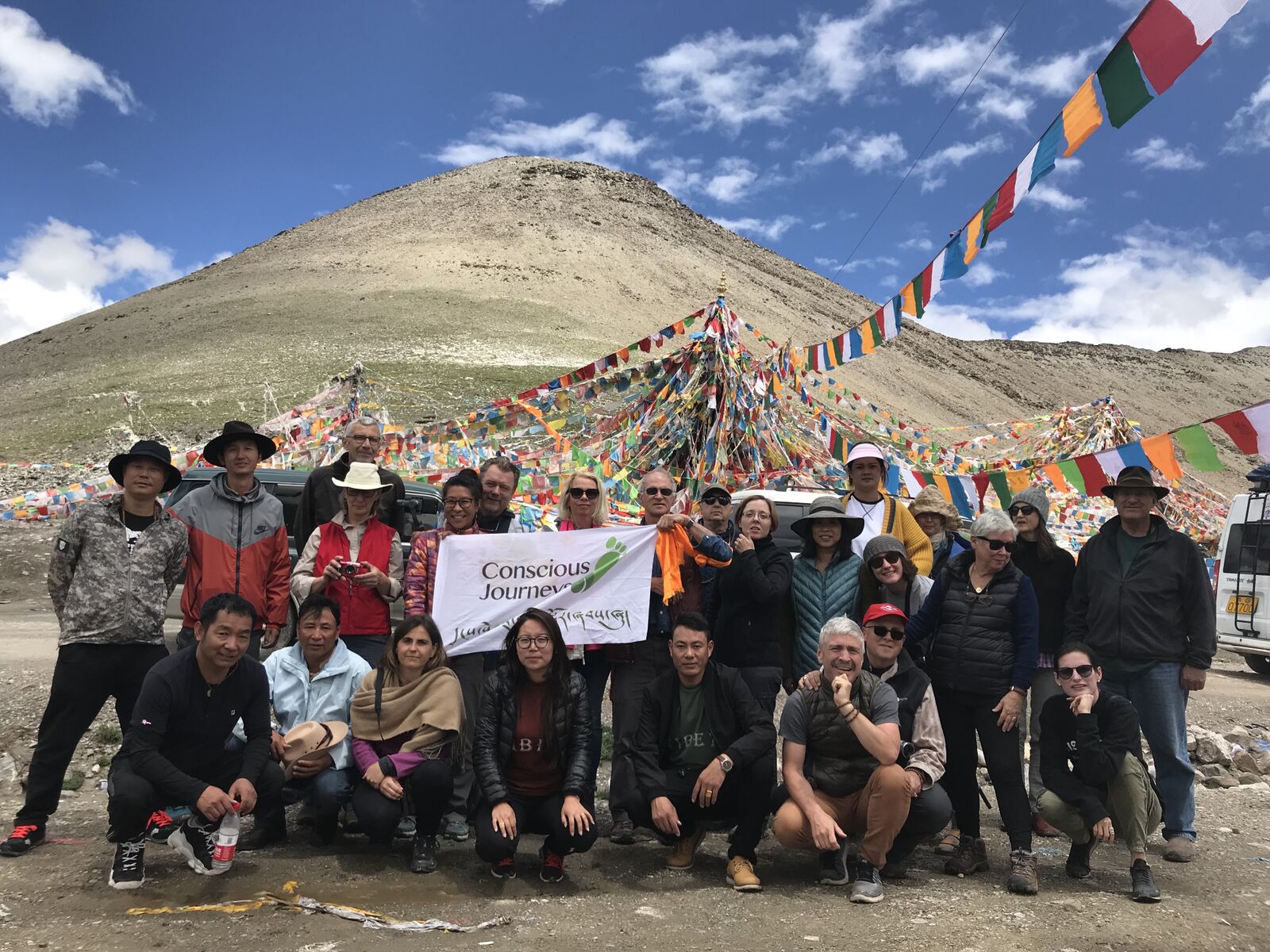 To our delight after the first morning's blessing introduction and group audience, Trungpa Rinpoche had us all stay up at the Kargenma for a robust lunch, which extended into a couple of hours of informal chatting. Khenpo, Tamdin and Kush translated. Many of us were touched and impressed throughout at Trungpa's presence and warmth. His very first words to us was about his regret and apology that the consecration was so inconveniently postponed. Nonetheless, during our time in Dutsi Til there was no concerted discussion of the Shedra. People did have a chance to look around. There were two walls beautifully adorned with new prints, but otherwise the main shrine room was very much still under construction, strewn with rupa body parts, scaffolding and debris. The upstairs rooms are more orderly and complete.
Tamdin arranged for the villagers to bring in horses for us to ride the morning of the last day. After that, the afternoon was spent hiking up to Dorje Kyung Dzong and receiving a thorough presentation of the history and practices of the the retreat. Kush and Tamdin facilitated a Q&A between us and the four-year retreatants.
In the evening, the Vajrayana students in the group were able to receive the empowerment for the Avalokiteśvara composed by the Eleventh Trungpa, Chogaym Trungpa Rinpoche, from his nephew. We coordinated simultaneous readings in Tibetan and English by the monks and ourselves respectively. It was uplifted, solemnly focused, humorous, and celebratory. At midnight in a light rain we all walked (or more accurately floated) to our quarters.
The Dutsi Til leadership joined us for a farewell breakfast in the dining tent and then we struck camp, loaded ourselves and gear into the buses and headed off for Surmang Namgyal Tse.
The adventures beyond Dutsi Til continued. On the last afternoon of the two days we stayed at Namgyal Tse some people went hiking while others met with some monks and Khenpos to discuss the history and significance of the Surmang group of monasteries. What started off as questions from us quickly shifted to their intense desire to connect with the teachings of Chögaym Trungpa Rinpoche. They told us that there was tremendous yearning among Tibetans and Chinese, lay and monastic, to know more about his life in the West. It's astonishing that sixty years after he left, there is still that kind or reverence and longing. Personally, it has been very inspiring to me to envision something that the Twelfth Trungpa supplicated of us in 2010, that Chögaym Trungpa Rinpoche teachings be brought to Tibet.
On behalf of all the travelers to Surmang this August, I would like to express my gratitude for Conscious Journeys in making this pilgrimage possible. Tamdin and his crew managed to pull off a robust itinerary and experience us and many unexpected treasures emerged from that.