A blessing and celebration took place at the new Surmang Kyelaka nunnery in September 2021.
The occasion was the completion of the main shrine room to the point where it can now be used. (Some finishing details are still being worked on.)
The classrooms and shrine rooms in the second floor of the lhakang (shrine hall) are now also in use.
About two hundred nuns and monks and more than two thousand local lay people took part in the four day series of practices. These were led by Choseng Trungpa Rinpoche, the abbot of Surmang Dutsi Til, and by his uncle Domkhar Rinpoche, abbot of the sizable Domkhar monastery outside the city of Jyekundo.
Housing for the nuns is sufficiently complete that they are able to live on the nunnery grounds, even though some still have to double up in their houses.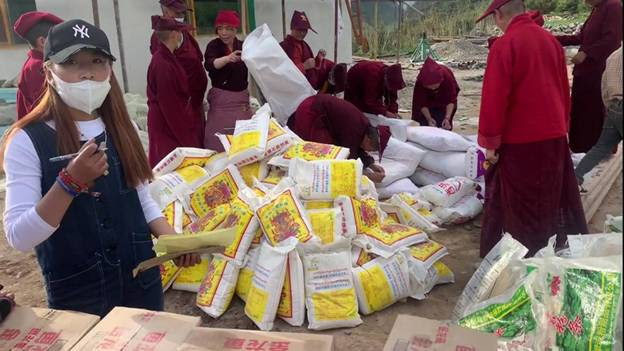 Konchok Foundation and its donors are supporting both the construction of the nunnery and ongoing day-to-day needs. The foundation has no endowment—all funding provided is due to the generosity of donors. Click here if you would like to help.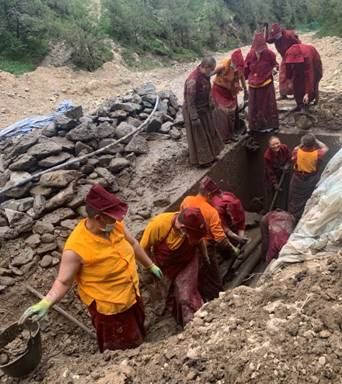 This special gathering aside, normal day-to-day life continues at the nunnery. An active practice and study schedule takes place daily. The nuns also pitch in to help with ongoing maintenance of the nunnery complex and with logistical chores.
Konchok Foundation continues to provide support to other programs in the Surmang area, including the annual children's program in the winter and stipends provided for monks on long term retreats at Dorje Khyung Dzong and Dechen Choling.
***
To make a donation, from anywhere in the world, to support Konchok Foundation's programs, please click here. Konchok Foundation is a 501c3 nonprofit organization in the U.S. Donations are tax deductible to the full extent permitted by U.S. law. You can designate which Konchok Foundation program you want to support if you wish. Konchok Foundation is operated by volunteers, with no paid staff and no rented office, and therefore has minimal overhead expenses in North America.